Benefits of Dental Implants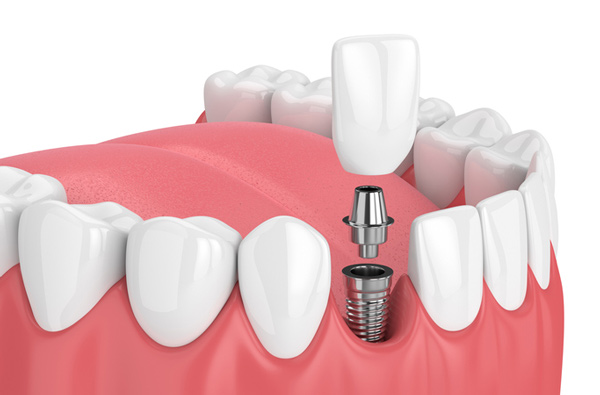 Dental implants replace tooth roots by providing a sturdy base for artificial teeth. As many as 5 million implants are placed by dentists in America each year.
Dental implant surgery involves placing a titanium tooth root into the jawbone. An implant allows the bone to grow naturally around the artificial tooth. This makes it look and feel natural, as well as last a long time.

Here are top 8 benefits of dental implants:


Similar to Natural Teeth

Dental implants look and behave just like your original teeth. They are customized for each patient, ensuring an improved smile. They can blend in perfectly with the surrounding teeth, making it difficult for anyone to notice that you have an artificial tooth or two.


Easy Chewing

Only when you have a few teeth missing, do you realize how difficult it is to chew certain foods. Implants help replace your missing teeth, making it convenient for you to eat normally again. Once your implant is firmly in place, you can even resume eating hard or crunchy foods.


Prevent Infection

Dental implants have no negative side effects for your original teeth. They are installed directly in the jawbone without disturbing any of the neighboring teeth. Neither do they pose a risk of infection, nor do they endanger the health of other teeth in your mouth.


Prevent Bone Loss

Dental implants are placed inside the jawbone in the missing tooth socket. They are made of titanium, which is not recognized by your body as a foreign material. This allows your jawbone to grow around the implant naturally, and may even reverse some of the bone loss that may have occurred.


Durable

With the right kind of oral care, dental implants can last a lifetime. Although wear and tear may require you to get your implant or crown replaced after 15 years or so, implants remain relatively durable. On the other hand, a bridge, for example, may need to be replaced in its entirety every 15 years, and a denture requires replacement every 5 years.


Easy Oral Care

Implants are rather low-maintenance, and can be cared for just like your original teeth. You do not have to introduce any extra oral hygiene steps in your routine. Simply brush your teeth twice a day and floss once daily to care for your prosthetic teeth.


Boost Self-Confidence

If a gap in your smile makes you self-conscious, a dental implant may be just what you need. Implants help improve your smile by looking and feeling just like natural teeth. Not only do they help you look better, but also improve your speech to make you feel more confident.


Prevent Facial Sagging

Facial sagging and premature aging are common side effects of missing teeth. Tooth loss may cause the lower third of the face to get pulled down, slowly narrowing the distance between the chin and the tip of the nose, making a person look much older. An implant can prevent this from happening by providing a stable tooth root for an artificial tooth in a missing tooth socket.

An implant helps restore full bite power and is a relatively painless procedure. If you have a missing tooth, a dental implant offers a permanent solution to your problem. Schedule an appointment with us at Roy C. Blake III, DDS, MSD, Maxillofacial Prosthodontist by calling us at (561) 296-3399 today.