Dental Implant FAQ Jupiter FL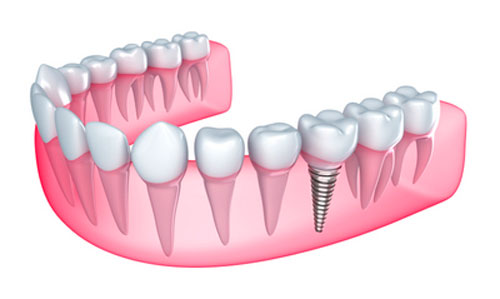 Dental implants are a durable and long-lasting replacement for lost teeth. Dental implants look great and function like your natural teeth, making them the most popular whole mouth restoration option available today. Dental implants consist of titanium posts installed into your jawbone. These posts are affixed with dentures or crowns, giving you a symmetrical, bright smile that you can be proud of.


Who Is a Candidate for Dental Implants?

After hearing about the many great benefits of dental implants, you may be wondering if they are right for you. Our prosthodontist at Roy C. Blake III, DDS, MSD, Maxillofacial Prosthodontist can assess your case during a consultation appointment in Jupiter and determine if you are a candidate for dental implants or implant-supported dentures. Once confirming your candidacy, our team will start the process of developing your implants and scheduling any preparatory procedures that you will need.


How Is Candidacy for Dental Implants Determined?

Our professionals always strive to provide our patients with the best treatment options for them. This means that our team will make sure that you can successfully receive dental implants and get the results you want. This starts by thoroughly reviewing your medical history and examining your oral cavity to gather information needed for the implant procedure.

Pre-existing medical conditions do not necessarily bar you from getting dental implants, but our team must account for any risks caused by these conditions, especially since you will be receiving some form of anesthesia or sedation. This information will be used to develop the right approach for your restoration and ensure that you experience a safe and successful procedure. It is one of the many ways that our team puts you first.

During your consultation, our team will provide you with additional information about the procedure and gather digital images of your oral cavity. These images are used to determine the exact placement of the posts and also to check the density of your jawbone. It is important that your jawbone is dense enough to support the posts. Failing to do so could result in the posts failing or your jaw fracturing from the stress of the implants.


Health

If you suffer from certain chronic diseases, for example, diabetes, you may not be suitable for dental implants. This does not necessarily mean you cannot have them, but as people with diabetes are prone to gum disease, you will need to be aware of the additional risks that your disease may present to the integration of the dental implant.


Smoking

Smoking decreases the chances of your dental implant integrating with your jawbone successfully. This is because it decreases blood flow which is an issue throughout the life of your implant, but particularly when it has just been placed. Blood contains essential nutrients and oxygen needed for growth and repair, as well as to fight infection. If the tissues around your dental implant do not receive the nutrients they need, it is highly likely your dental implant will fail.


Pregnancy

Pregnant women are advised to wait until they have given birth before they have dental implant surgery. Although the procedure is safe, you will require x-rays and you may be given antibiotic medication. It is best to be on the side of caution and not take any unnecessary risks that may harm your baby.


Age

There is no maximum age limit for dental implants if you meet the suitability criteria in every other way. However, because their bones are still growing, dental implants are not recommended for children or teenagers.


Bone Loss

Bone loss in the jaw may preclude you from having dental implants, unless you are prepared to undergo another surgical procedure, called a bone graft, before the dental implant treatment. However, even with bone loss, you may be suitable for some implant options without needing a bone graft, such as implant-supported dentures or the All-on-4® Treatment Concept.


Oral Hygiene Regime

Dental implants do not require a specific maintenance schedule, but if you are remiss with taking care of your teeth then you really need to be confident that you will look after your dental implants carefully. You will need to brush teeth and floss twice daily, as well as have regular visits to the dentist as often as they recommend for check-ups and professional cleanings.


Benefits of Dental Implants in Jupiter, FL

There are many benefits of receiving dental implants to replace missing teeth. Some of the top reasons for choosing a dental implant restoration include:
| | |
| --- | --- |
| • | Dental implants are permanent. Since dental implants are affixed permanently into your jawbone, you do not need to worry about replacing them, or having them shift around in your mouth the way dentures do. |
| • | Dental implants look and function just like your natural teeth. Dental implants appear natural, like your actual teeth. They also provide the bite support you need to eat the foods you enjoy. |
| • | Dental implants prevent bone loss. When you have missing teeth, your jawbone can quickly deteriorate, up to 25% in just one year! With dental implants, your jawbone is supported, just as if you had your natural teeth. |
| • | Dental implants last a lifetime. While the dental crown may need to be replaced after several years, the rest of the dental implant should last forever. |
How Long Does the Dental Implant Process Take?

The total process to receive dental implants from your first consultation to the final procedure will take several months or as long as a year. Most patients can get the entire process completed in a total of two or three appointments. Although uncommon, some patients will require more than a year and multiple visits before their implants are installed.

This extended time frame generally only applies when a patient needs preparatory procedures such as a bone graft or a soft-tissue graft. This is because it can take several months to a year for the bone fragments to fuse with your jawbone. Our dental team has to wait for complete fusion before installing your dental implants.

If you are around Jupiter and would like to learn more about the benefits of dental implants and find out if you are a candidate, then it is time to come see our professionals at Roy C. Blake III, DDS, MSD, Maxillofacial Prosthodontist. Our team can schedule your consultation and get you started on your journey to a brand-new smile! You can reach us by calling our dental office at (561) 296-3399 today!