Cosmetic Dentistry Jupiter FL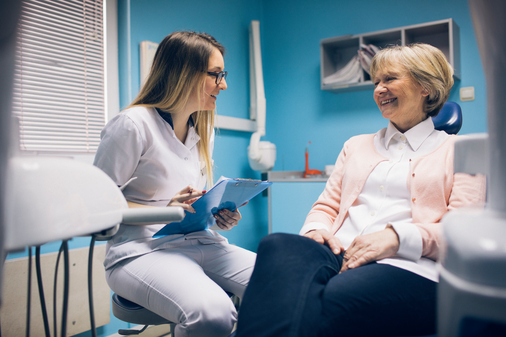 Your smile is usually the first thing that others notice about you. How your smile looks can influence how others see you and the impressions that you leave. Any imperfections in your smile can play a significant role. These imperfections can also affect your confidence, causing you to hide your smile from the world. At Roy C. Blake III, DDS, MSD, Maxillofacial Prosthodontist, Dr. Roy Blake can help to improve the quality of your smile and give your confidence a much-needed boost with cosmetic dental services in Jupiter.


A crown is a type of dental restoration. It is a small cap that is made to encase the entire visible surface of the tooth. This protects the tooth from further damage and infections. A crown is made from an impression of your mouth, ensuring a proper, comfortable fit. Crowns do not last forever, and a worn or discolored crown can age your smile. We can restore your tooth and replace old metal crowns with beautiful, strong porcelain to brighten and strengthen your smile. Learn more about Dental Crowns.


If loose or missing teeth are not addressed quickly, they could cause greater issues in the future. Without a tooth to keep the surrounding teeth in their original position, there is a chance these teeth could also loosen and may fall out. Of course, we want to prevent that from happening, which is why a prosthetic tooth can be used to keep your teeth securely in place. For those who have mostly healthy teeth anyway, strong gums without evidence of periodontal disease, and have a sturdy root foundation in the teeth surrounding the empty socket, a bridge may be an excellent way of keeping your mouth functional while still having an attractive smile. Find out if a Dental Bridge is the right choice for you.


A complete fixed bridge is a full arch of tooth restorations that are typically attached to five or six dental implants. The implants are embedded into the jawbone and act very much like tooth roots in their ability to support the teeth and withstand the considerable biting and chewing forces exerted upon them. Fixed implant bridges are permanently attached to the implants and cannot be taken out in the same way as an implant-supported overdenture can.


You are probably very familiar with a traditional denture. It is a removable prosthesis that is made to replace an arch of missing teeth or a section of missing teeth. When you think of a traditional denture, you are probably filled with images of noticeably false teeth that slip out of place or cause difficulty speaking properly because they feel awkward in the mouth. Traditional dentures can make eating difficult, which can impact your ability to enjoy your favorite foods as well as your digestion and overall nutrition.

Cosmetic dentures are quite different. These dentures are designed to look much more natural. The teeth are made from acrylic or porcelain, providing a much more realistic appearance. The base, made from acrylic, is colored to match the exact color of your natural gum tissue. Your cosmetic dentures also feel much more comfortable and function much better. They can even be stabilized using dental implants, which can help to provide greater security and functionality. This can help to improve both your eating and your speech. Moreover, when you can eat properly, your digestion and nutrition improve. Learn more about Cosmetic Dentures.


If you have ever seen a flash of shiny metal in someone's mouth while they were speaking, there is a good chance they have received silver, or amalgam, fillings at some point. Composite resin on the other hand, is a tooth-colored material also used for fillings. It is made up of non-toxic plastic, fine glass, and other materials. Composite is an incredibly versatile material that has many uses, including dental bonding. Because the material is tooth colored, it can be matched with the color of your natural teeth, providing restoration to the quality of your smile in addition to restoring your oral health. Learn more about Dental Fillings.


Bonding is another solution used to treat teeth affected by minor flaws. This treatment uses composite resin to improve the appearance of your teeth. Composite resin is a tooth-colored material that can fit a variety of different needs. It can be used to fill chips and cracks, eliminate gaps between your teeth, and even transform the size or shape of a tooth. The process for bonding is quick and non-invasive and can improve your smile in just one appointment. Learn more about


Porcelain veneers are thin, shell-like cosmetic structures that are made to be bonded to the front surfaces of your teeth. Veneers effectively cover over a variety of different flaws, improving the appearance of your teeth and the quality of your smile. Porcelain matches the exact color of your natural teeth and reflects light just like your tooth enamel. To get veneers, we first need to prepare your teeth, which involves removing a small portion of the enamel from the front surfaces of the affected teeth. This helps to ensure a natural, comfortable fit. Learn more about Porcelain Veneers.


There are many factors that can lead to tooth discoloration, including what you eat and drink and the use of tobacco products. Teeth whitening is one of the easiest ways to restore the bright white color to your tooth enamel and boost the quality of your smile. It is also completely non-invasive. Whitening involves the use of a bleaching agent that is applied to the surfaces of your teeth. The active ingredient breaks down to form oxygen bubbles, which work their way into your tooth enamel to eliminate stains. There are two ways to whiten your teeth. We can whiten your teeth in one appointment in our office. We can also provide you with specially made whitening trays, which enable you to whiten your teeth at home. Learn more about Teeth Whitening.


Schedule A Consultation For Our Cosmetic Services in Jupiter

Find out if any of our cosmetic dentistry services in Jupiter, FL are right for you! Call (561) 296-3399 to schedule your consultation appointment today!