All on 4 Dental Implants

West Palm Beach, FL




Roy C. Blake III, DDS, MSD, Maxillofacial Prosthodontist is happy to offer the All-on-4® treatment concept. Since Dr. Paulo Malo introduced it in 1998, this treatment has helped hundreds of thousands of patients who need a full-arch treatment – total replacement of the teeth in their upper or lower jaw. In this procedure, Nobel Biocare products are successfully used.


The All on 4 Implant Process

With this procedure, you'll receive a fixed, full-arch prosthesis on the day you have surgery. This affordable solution doesn't require any grafting (removing bone from another part of your body to strengthen your jaw) because the posterior implants are tilted, so they use the bone that's already there. The procedure utilizes four dental implants (two straight anterior and two posterior that are tilted up to 45º) and a prosthesis to fully rehabilitate your jaw, instead of just relying on multiple dental implants.


Benefits of All on 4 Dental Implant Procedure

About 98% of the patients who've had this procedure say they'd recommend it for numerous reasons. This is because they've had a rapid improvement in their quality of life, since the procedure allows you to immediately use your jaw again, thanks to the fixed provisional dental bridge that's placed in your mouth on the day of your surgery. Once in place, most people feel that their mouth looks and works better, which helps improve their self-esteem. The entire procedure takes much less time than bone grafting. It's also much less costly than traditional implants, especially considering that it can last for 5 – 10 years.


Who can Benefit from All on 4?

Before determining if this is indeed the right treatment modality, it's important to undergo a thorough evaluation. During this time, we'll be able to predict how your treatment will turn out. Typically, we find that the All-on-4® Treatment Concept works best for patients who have terminal dentition. This means that their teeth are so diseased that there's no other option available for them, but to replace their natural teeth with new, man-made teeth. About two-thirds of the people who receive this treatment are about to no longer have any of their teeth remaining.


Understanding how the Procedure Works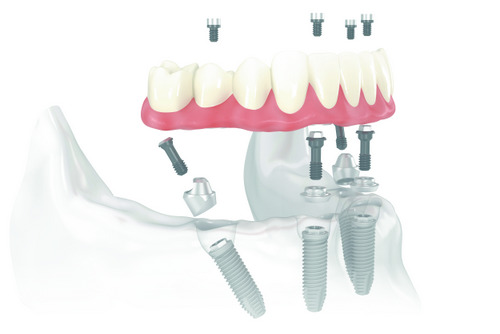 This oral surgery procedure (a.k.a. prosthodontics procedure) received its name from the fact that once completed, all of your teeth are supported on four dental implants. The entire process starts with us evaluating you to make sure that both your dental and your overall health will make you a good candidate for receiving dental implants. Once you're deemed a good candidate, you'll receive four implants. They'll include a full arch of teeth, that's made from titanium so it can fuse to the bone that's present in your mouth and from there it serves as your teeth's strong, new foundation.

Although this sounds pretty straightforward, it's important to understand that there is minimal risk involved here. Not only could your mouth become infected, but you could also suffer from damaged nerve tissue. You may also bleed excessively either during or after the surgery. This is why not everyone makes a good candidate for this treatment.

Whether you think or you know that you need this treatment, call Roy C. Blake III, DDS, MSD, Maxillofacial Prosthodontist at (561) 296-3399 to make an appointment to discuss it today.