Palatal Lift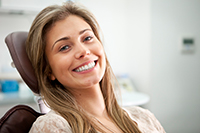 We can create a prosthesis that will improve your speech and assist with swallowing. A palatal lift prosthesis is a removable device that will help lift and hold the velum tissue. Our team at Roy C. Blake III, DDS, MSD, Maxillofacial Prosthodontist can review your medical and oral health information with you, and together we can create a treatment plan to improve your function.

The velum tissue is located in the roof of the mouth, separating the oral cavity and nasal cavity. Some patients have defects in the muscles of this tissue that effect sound and their ability to properly swallow. The palatal lift prosthetic is designed to hold that tissue in place, creating a clear division helping improve speech and decrease nasal regurgitation.


Who Would Use a Palatal Lift Prosthesis?

A palatal lift prosthetic is used for patients who have:

| | |
| --- | --- |
| • | Respiration Problems: The muscles between the nasal cavity and oral cavity can cause some frustration in getting air to properly pass. Patients who experience breathing problems due to muscles in this region will find that the palatal lift can hold this tissue firmly in place. |
| • | Decreased Laryngeal Function Muscular problems in the velum can cause decreased sensation in this tissue along with impaired motor function, and decreased laryngeal cough reflex. Having the tissue held tight can add strength to this area. |
| • | Vocal Distortions: The patient will have distortions, or inadequacies, in vocalizing certain letters or sounds despite articulation function. |
| • | Reduced Pressure in Sounds:The patient will have trouble getting the volume or pressure needed to make sounds in their speech. Their sounds may come out nasally or with decreased volume. The palatal lift prosthetic will hold the muscles tight against the wall, helping improve their sound and volume. |

Dysfunction in the velum tissue is an impairment disorder, it is not environmental or caused from delay or neurological impairment, though it is often associated. It is a congenital disorder that can be corrected and improved. Studies have demonstrated significant improvement in speech for patients with muscular problems in this region following the use of a palatal lift prosthesis.


How it Works

The palatal lift prosthetic looks very similar to a dental retainer, it clasps around the teeth and then has an extended portion on the back that reaches back toward the throat. When worn correctly, this extended piece should fit snugly up on the roof of the mouth, not stick in your throat. It can feel uncomfortable at first, so we start the patient with a shorter extended portion and then gradually increase it as it becomes more comfortable to wear. Uncomfortable pieces end up not being worn, we don't want that, we want our patient to be set up for success.

This extended portion should push and elevate the tissue between the oral cavity and nasal cavity holding it firmly in place. Having this tissue held firm will provide the support needed to improve function, both with speech and the ability to swallow properly. It will also help with nasal regurgitation when eating.

Our team is happy to review your medical history along with your oral history, and speaking with other healthcare professionals to find the best solution to meet your needs.